Excel-more Spreadsheet for C-More data log files
---
Product Description
---
Excel-more Spreadsheet
Order and download from here:
Here is an Excel Macro to help with combining C-More (tm) Data Log Files. This tool can help combine hundreds of days of data into an Excel sheet in seconds!
Excel-more has simple tools built in to help filter file names and narrow the file dates to get you the data you need. V1.3 Added a data multiplier so you don't have to tweak the data after you combine files.
Tested on Excel 2003 and Excel 2007.
History:
V1.0 First Beta Release.
V1.1 Added Subdirectory for USB Drive.
V1.2 Last line of data was not read into spreadsheet.
V1.3 Added data multiplier to modify data as it is imported. If you log in BCD and have an "implied" decimal point (ex 324 = 32.4) then V1.3 will allow you to enter a multiplier of 0.1 and apply this to all data imported.
You may have to install these files from Microsoft...support.microsoft.com/kb/297381
There are 2 files, one is an .OCX and the other is .INF. They both need to go into the Windows\System32 directory.
In Excel, check your security settings. Under TOOLS/OPTIONS (Security Tab) and "Macro Security", set to Medium and then Excel will ask if you want to enable the Macros in this application. If it is set to HIGH, then the macros will not be enabled ever.
Screen shot: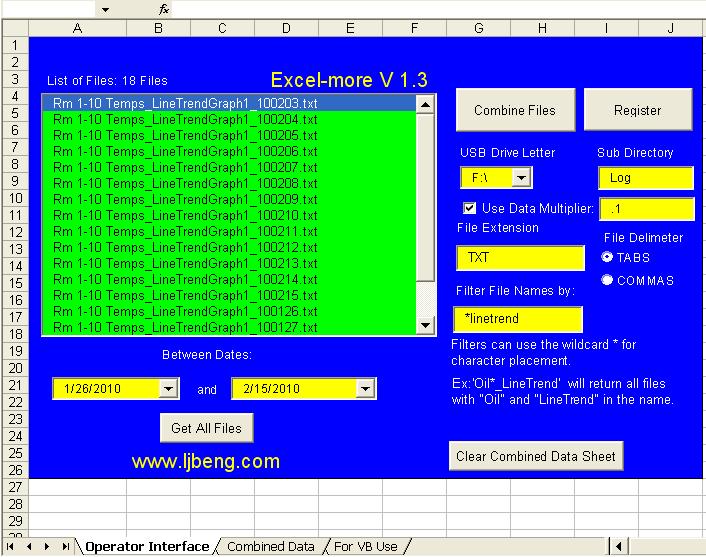 You will have to agree to the Macro Security Certificate.